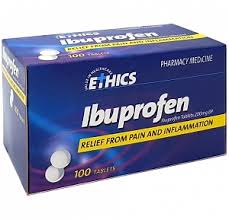 Description
Ethics Ibuprofen is a non-steroidal anti-inflammatory drug (NSAID) used to lower temperature, relieve pain, and reduce inflammation. Useful in the relief of discomfort and pain associated with migraine and other headaches, cold and flu symptoms, rheumatic and muscular pain, period pain, backache, feverishness, dental pain, and neuralgia. And relief from inflammation

Active Ingredients: Ibuprofen 200mg

Benefits:
Reduces hormones that cause pain and inflammation in the body.
It is useful in lowering temperature and relieving pain.
Ibuprofen is used to reduce fever.
It treats the pain or swelling that is caused by headache, toothache, back pain, arthritis, menstrual cramps, or minor injuries.
Relieves aches, pain, and distress resulting from Common flu or cold.
Dosage:
Take with food. Use the lowest effective dose for the shortest time.
Adults and children over 12:  Take TWO tablets immediately then take ONE to TWO tablets every 4 hours. Maximum of SIX tablets in 24 hours.
If your stomach is upset, then don't take it on an empty stomach, try eating something before. Take it with water and don't lie down immediately after taking it. This medicine works best if taken after the indication of the first sign.
 Warnings for Ethics Ibuprofen:
Seek medical advice before taking if you have a kidney condition, heart condition, high blood pressure, pregnant, over 65, children under 12 years.
Always read the label. Use only as directed.
Do not use with other forms of NSAID'S including aspirin
If symptoms persist for longer than three days consult your doctor.
This is a Pharmacy Medicine. Please read instructions and warnings on packaging.
Do not use if you have stomach ulcers. Prolonged or excessive use could be harmful.
Do not use if you are hypersensitive to non-steroidal anti-inflammatory medications
May worsen asthma.
Incorrect use could be detrimental. Do not exceed the recommended dose.